Arsenal Codes JULY 2020
Simply one of my many favourite games on Roblox, the object of the game is to kill as many other players as you can, once you reach the golden knife you must do one final kill and you have won the game. One of the main game plays, is whilst killing each player your weapon will change with every kill, some weapons are more harder to achieve kills but in my opinion makes the game more fun!
In this article you will find all the latest codes that are available for you to use to update your character, some codes can be used for cosmetic purposes and also to boost your performance so your player has a better advantage against the rest.
How to redeem the codes
Once you have loaded in a game, look out for the twitter icon. Once you have set your eyes on that, click on it and this will appear on your screen.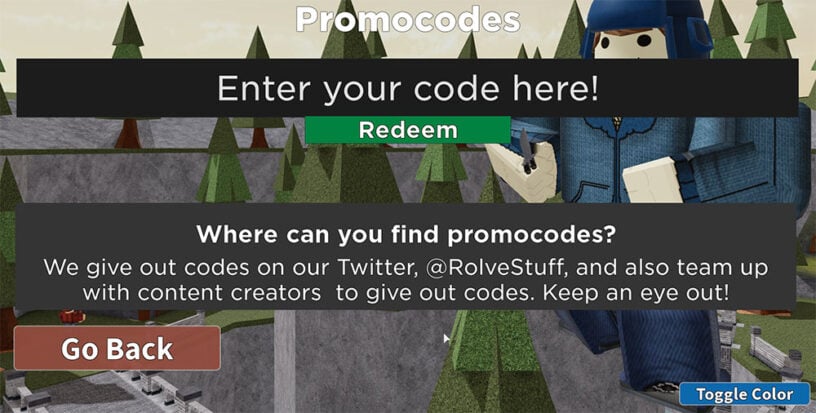 Enter each code in the space that says, "Enter your code here!" be mindful and ensure each code is spelt correctly so that they will work properly. It really is as simple as that!
Current Working Codes
Down below is the current working codes list, remember to be mindful and take your time typing in the codes so that they are spelt properly. Make sure to check back regularly so your up to date with all codes that are available.
Announcer Codes
Bandites Announcer Voice:  Bandites
Eprika Announcer Voice:  EPRIKA
Flamingo Announcer Voice: FLAMINGO
John Announcer Voice:  JOHN
Koneko Announcer Voice: KITTEN
PetrifyTV Announcer Voice: PET
Skin Codes
Anna Skin: ANNA
Jackeryz Skin: F00LISH
Phoenix Skin: CBROX
Poke Skin: POKE
Even though these codes are only for cosmetic purposes only, they honestly do add more fun to the game play as well keeping your character to stand out from the crowd too!
Expired Codes
Fanboy Skin: ROLVE
Not to fear as codes for these games are often released so there are always more opportunities for you to get your hands on more codes to use.
Make sure to check back soon so your up to date with any new code releases.